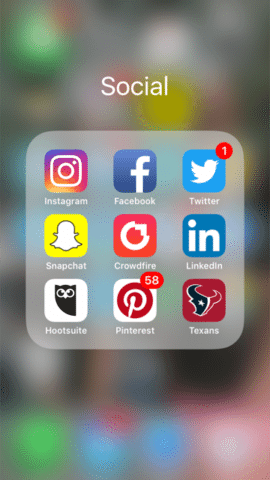 Social Media has evolved into a core of any digital strategy. Investment in this resource is top priority for any organization that wishes to achieve Alpha preeminence in its respective vertical market. By bolstering your company image and creating dialogue with your client base, we help you protect that client base from encroachment by your competitors. Meanwhile, the ongoing community management that allows two-way conversations between your organization and those it serves helps new business through referrals.
SEO411 offers social media marketing with the intent of lead generation through increased public awareness of your value production. Just as your website and blog enumerate your offerings to your client base, so do various social media services offer you increased exposure to your marketplace.SEO411 offers you the complete repertoire of social media services currently proven to generate prosperity for organizations of all types and sizes.
A Facebook account will create an image for you that functions as your public relations platform to clients and new prospects. Image matters here just like it did in the days before the Internet. With Facebook, our social media consultants will generate a face to the world that will put you in the best possible light with those who do business with you. New prospects will be impressed with the presentation, dialogue, and feedback your account generates from friends and fans.
A Linked-In account will showcase the credentials of your executive team. People need to know who they are doing business with, and what qualifies them as the best possible vendor. Linked-In is an invaluable Social Media Marketing tool to this end. Your team's resumes and accomplishments will be enumerated and updated when appropriate.
A Twitter account will keep your clients informed of your latest activities so they will not miss a step in the transaction cycle. Letting people know when you offer specials, sales, new product launches, and referral incentives is vital to recession proofing your business. Twitter is that one social medial marketing tool that allows for instant communiqués of all of the above.
A social media consultant will be assigned as your personal liaison to your marketplace. As much as companies now know about how vital social media marketing is to their success, few have time to pursue it in-house. SEO411 offers you a personal consultant to manage all social media services for you so that your hands remain free at all times for value production.
Social media management will be ongoing, up-to-date, and pertinent to your marketing campaign. Maintaining your company image and keeping your clients up to date about your service offerings has one and only one goal in mind—lead generation. Unlike many who seek to create a feel-good sensibility, our social media marketing initiative bear down hard on the one thing that matters—revenue generation independent of the problematic vicissitudes of the economy at large.
Our clients can count on results because our social media consultants listen to them and express the most important things that clearly communicate a superior level of value that is sure to attract new clients and produce new sales.